May 31, 2023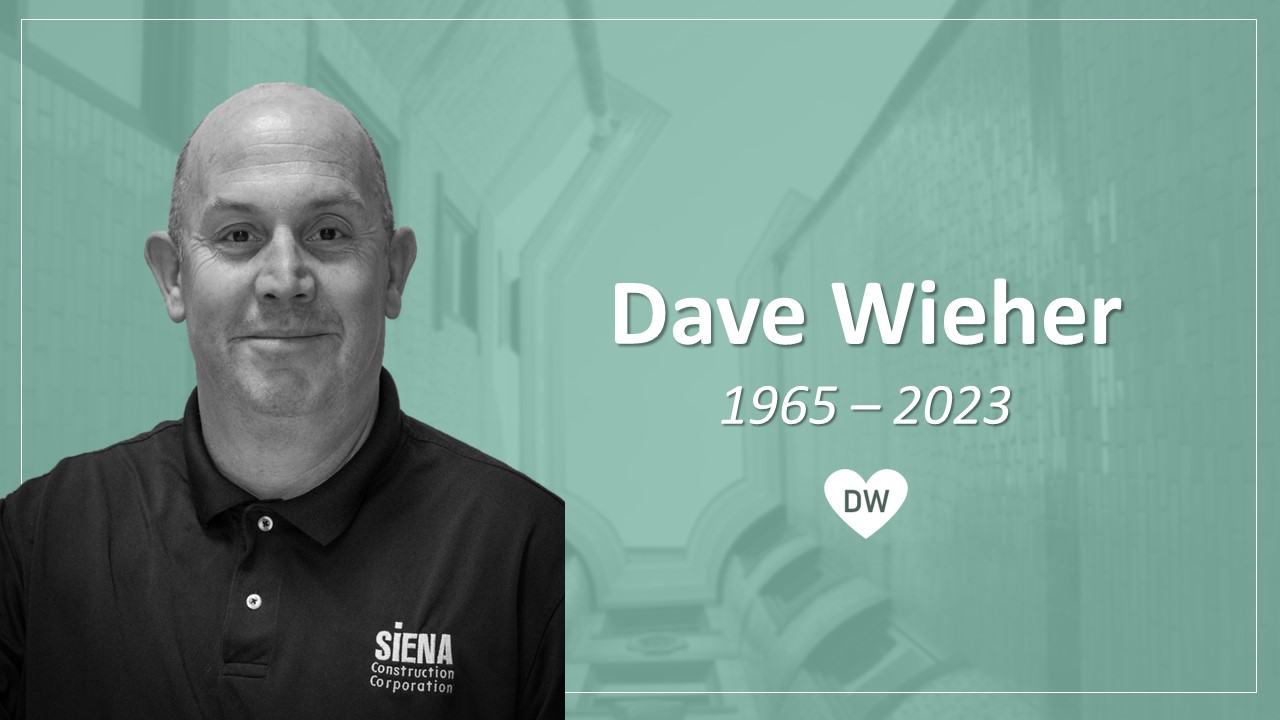 Dave Wieher (1965-2023)
Our team is heartbroken by the sad news we received about a dear colleague over the weekend. Dave Wieher unexpectedly passed away on Sunday, May 28th. He was a caring husband, father, son, brother, coach, teammate, and friend.
Dave was confident, capable, compassionate, reliable, and trustworthy – all qualities of a natural leader. He worked in construction for two decades, and was a member of the Carpenters Union Local 67.
Dave joined Siena Construction in 2016, quickly becoming an integral team member. He oversaw many of Siena's most complex construction projects, particularly for life sciences and laboratories, including Moderna Therapeutics, Novartis, Flagship Pioneering, Foundation Medicine, CRISPR Therapeutics, Alnylam Pharmaceuticals, Broad Institute, and MIT's Department of Engineering.
Dave had an overwhelmingly positive impact on those who worked closely with him, colleagues and clients alike. Here are just a few of the comments from Siena employees and our industry colleagues who were lucky enough to work closely with Dave over the years:
"David was a great and caring man who was dedicated to his work. His passion for the job was evident. He was always willing to lend a hand and go beyond what was expected of him. His booming voice would fill the room and put a smile on everyone's face. It was a testament to his vibrant, larger-than-life personality. His legacy will live on through the impact he made on the company and the people whose lives he touched." – Shane Chateauneuf | Siena Laborer
"I had the privilege of working alongside Dave for the last few years. He had that rare quality of unquestionable loyalty to the people around him. Being on site a few days each week, I understood what everyone loved about Dave. When I would arrive on-site early in the mornings, Dave would stop what he was doing to take me on a tour of the latest progress. He had such pride in everything he did. I also knew that he would back me up in every situation. I was always amazed and beyond appreciative of that. He cared for people, deeply. I will miss him terribly." – Alex Testa | Siena Project Manager
"Dave was a one-of-a-kind, amazing, loving and loved man, at home and work. Each day he led us and taught us all, not only by sharing his knowledge and experience, but in his actions and approach to life." – Karen Orf | Siena CFO
"I don't expect to ever meet another construction superintendent with as much talent, experience, and natural ability as Dave. He was truly the best. Not just with skill and ability, but his attitude, passion, and deep pride in his work are rare and so valuable. He made us all look good, and made his job look a lot easier than it is. The jobsite he ran was different than any other I've ever seen – Dave brought peace, happiness, and productivity to an otherwise chaotic and gruff environment. The Boston construction community has lost an industry great." – Mark Andrews | Redgate
"Although we worked for different companies, I got to know Dave well. His expertise, compassion, hustle and work ethic instantly was something I admired. He taught me a lot in the year or so we worked on top of each other. Always there to share his wisdom, just a great guy all around." – Mark Devereaux | AECOM Tishman
"Dave was a good man, an incredibly hard worker, intelligent, creative and took such care and pride in his workmanship. Yet he was also so humble. We are all better people for having known him and the world is just a little bit smaller, a little bit darker, now that he is gone." – Nathan Dowden | Entrada Therapeutics
"Dave was a great colleague and a greater friend. You will be missed. Rest in peace my friend." – John Gravell | Former Siena Employee
"Dave is truly one of the best. He always put a smile on people's faces and made everyone on-site feel like they were part of the team." – Phil McAuliffe | Former Siena Employee
Dave shared his thoughtful Memorial Day tribute email with the Siena team the day before he passed. He took care and pride in sharing this annual tribute to veterans who gave their lives. The words he uses to express his appreciation – sacrifice, gratitude, honor, courage – are characteristics he himself possessed.
We share our deep condolences with Dave's family, friends, and colleagues, and all who knew him. We are united in our grief. Rest in peace, Dave.
Dave's Obituary can be found here:
https://www.legacy.com/us/obituaries/bostonglobe/name/david-wieher-obituary?id=52078714&fhid=15210