December 21, 2016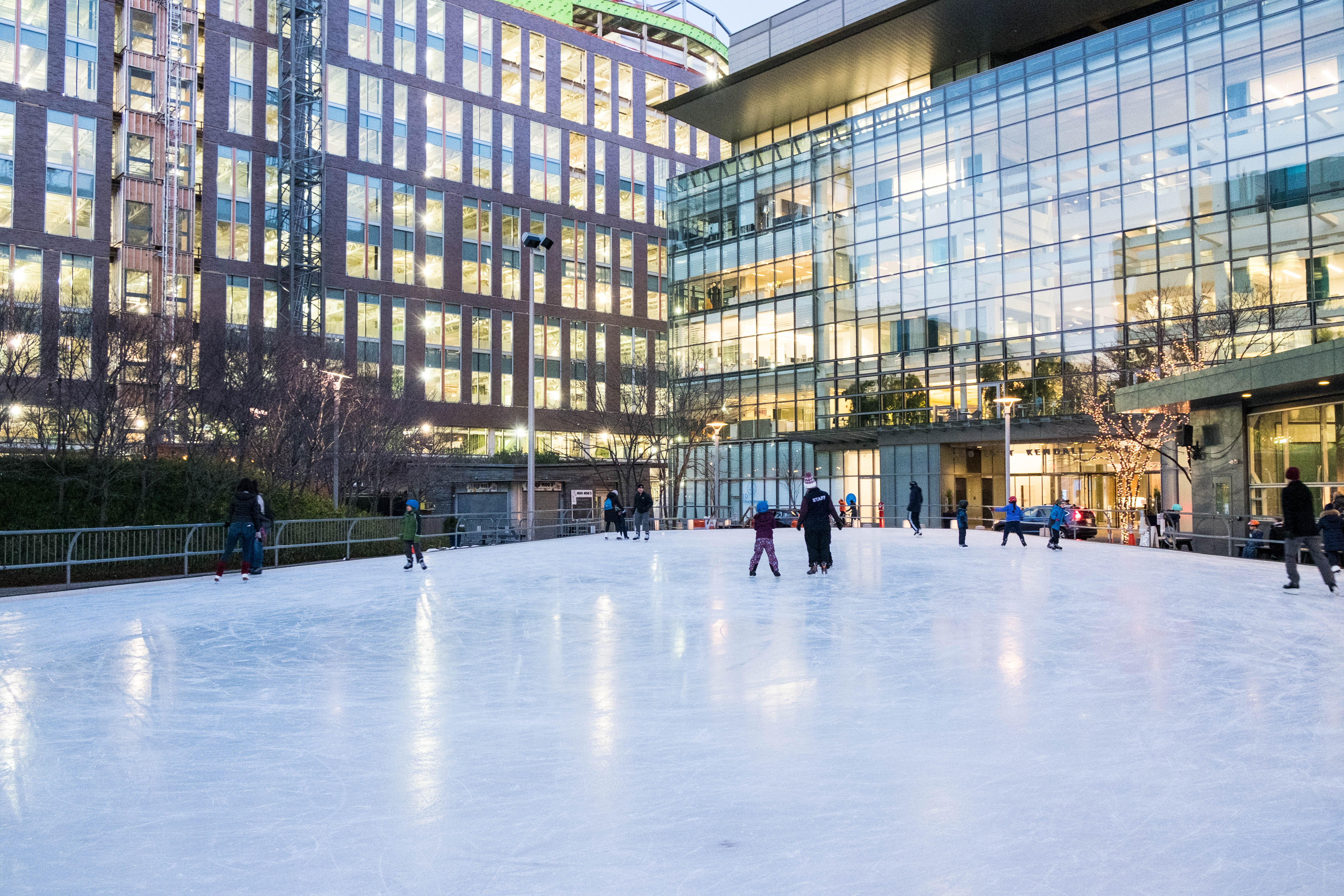 Siena Completes Kendall Square Ice Rink Installation
The official first day of winter is the perfect time to revisit an annual tradition that Siena Construction is proud to have been a part of for more than a decade – the Kendall Square Skating Rink. Siena Construction recently completed the winter installation of the community run skating rink at BioMed Realty's Pavilion A, located in the heart of Cambridge's Kendall Square.
For the past decade, Siena has overseen the installation of the ice skating rink, which has become a popular family attraction during cold weather months. The skating rink – maintained by Community Ice Skating in association with Charles River Recreation – offers skate rentals, skating lessons, private rink rentals, and a café that serves warm drinks to keep skaters comfortable after a chilly ice session.
Each December, Siena's team implements site-specific plans created by Custom Ice Rink Design, which includes installation of rink boards and a temporary hut which houses the Zamboni ice cleaner. Siena also oversees the ice freeze, and maintains the cooling system to ensure the surface remains usable throughout the sometimes harsh winter weather.
Siena's President Terrence Hayes recently reflected on Siena's ongoing partnership with Cambridge community initiatives.
"The skating rink has become a beloved annual tradition in Kendall Square," Terrence said. "The CRR-sponsored skating programs help foster community engagement through healthy activities. Siena is honored to lend a hand to Kendall Square's initiatives that support neighborhood building for residents and employees alike to work, play, and live together."
The outdoor plaza at 300 Athenaeum Street provides year-round use to the community. In the spring, Siena's team disassembles the rink, and creates a casual pavilion environment with seating and fountains for warm weather enjoyment.
To see photos of the Kendall Skating Rink, click here (and for springtime views, here).