May 10, 2017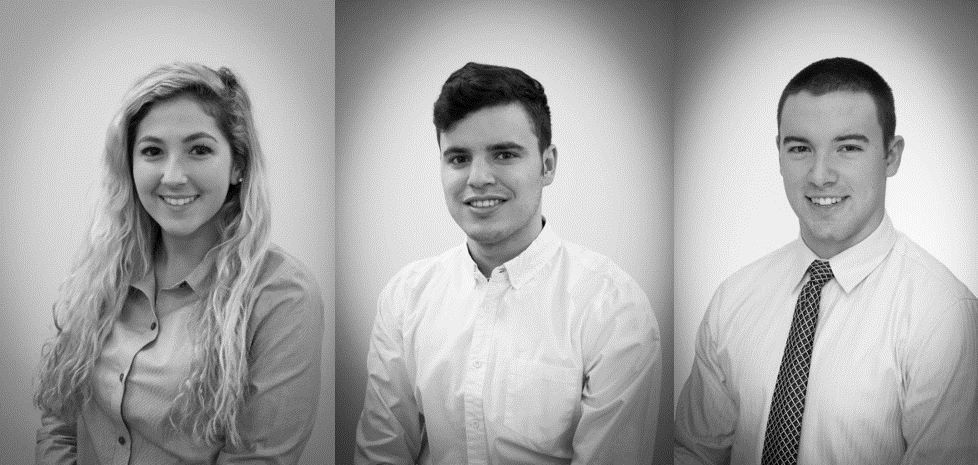 Siena Welcomes Talented Wentworth Trio to Cooperative Program
Traditional summer positions for college students – seasonal service industry jobs like ice cream scooper, camp counselor, golf caddie, or lifeguard – may always have a place in the tourist-friendly Bay State. But for extra-industrious students eager for experience in their future careers, there are more valuable options than these time-tested short-term positions.
Siena Construction is pleased to announce the addition of three students from Wentworth Institute of Technology to seasonal cooperative positions. We welcome Alexia Ralphs, Ricardo Urdaneta, and Jonny Spada to Siena's team. The three will assist circulating and coordinating information among team members throughout project duration, from estimating projects through project closeout, as well as provide field support on Siena's construction sites.
Siena's President Terrence Hayes is optimistic about the new hires, all of whom are eager to put their classroom learning to practical use in the field of construction.
"I'm happy to welcome Alexia, Ricardo, and Jonny aboard. They were among a very talented pool of interested applicants at Wentworth's Career Fair this Spring," Terrence said. "Each brings unique professional and educational backgrounds to their roles. I'm sure they will contribute to and learn from Siena in equal measure."
Ricardo Urdaneta is majoring in Construction Management. A Merit Scholarship Recipient, Ricardo also has previous construction industry experience in his native Venezuela. As an Assistant Civil Engineer for a Construction Firm, he provided project support on the installation of oil pipes for the Venezuelan state oil company. In his free time, he is studying to become a licensed pilot.
Jonny Spada is pursuing a Bachelor's Degree in Civil Engineering. He has been a member of Wentworth's Dean's List and the American Society of Civil Engineers, with relevant courses and projects relating to Materials, Surveying, Engineering Chemistry and Design. In addition to his various service-related work experience, the New Jersey native is also a member of Wentworth's Men's Hockey team.
A native of Billerica, Alexia Ralphs is one of the few women studying in Wentworth's Construction Management major. Her academic success has landed her on the Dean's List. She also provides support to the school's Construction Management office. Active in the Billerica Boys & Girls Club, she also enjoys music, movies, sports, and volunteering.
Alexia shared her relatively recent enthusiasm for construction, tracing it back to an earlier school experience. "Before my last couple months of high school, I didn't even know that I wanted to be in construction," she said. "When I was in 7th grade, my school made us go through 'electives' like art or music. My favorite was woodshop. There was just something so cool about building new things and learning with my hands."
Terrence reflected on the positive impacts cooperative education can have for all involved.
"Co-ops are a good fit for both students and employers," he continued. "The era of interns making coffee and picking up the boss' dry-cleaning is over. Students get hands-on training in the many different aspects of the construction industry, and hopefully, gain a better understanding about themselves and what might be a right career fit for them going forward. Meanwhile, Siena benefits from additional office and field support during a traditionally busy season for construction projects. We welcome the opportunity to share what we've learned about the construction process with the next generation of our industry's workers. I'm confident that Alexa, Jonny, and Ricardo will be a great fit for Siena's client-first philosophy."
Founded in 1991, Siena Construction is a Cambridge-based construction management firm specializing in life sciences, retail, and commercial projects. For more information, visit sienaconstruction.com.