October 13, 2020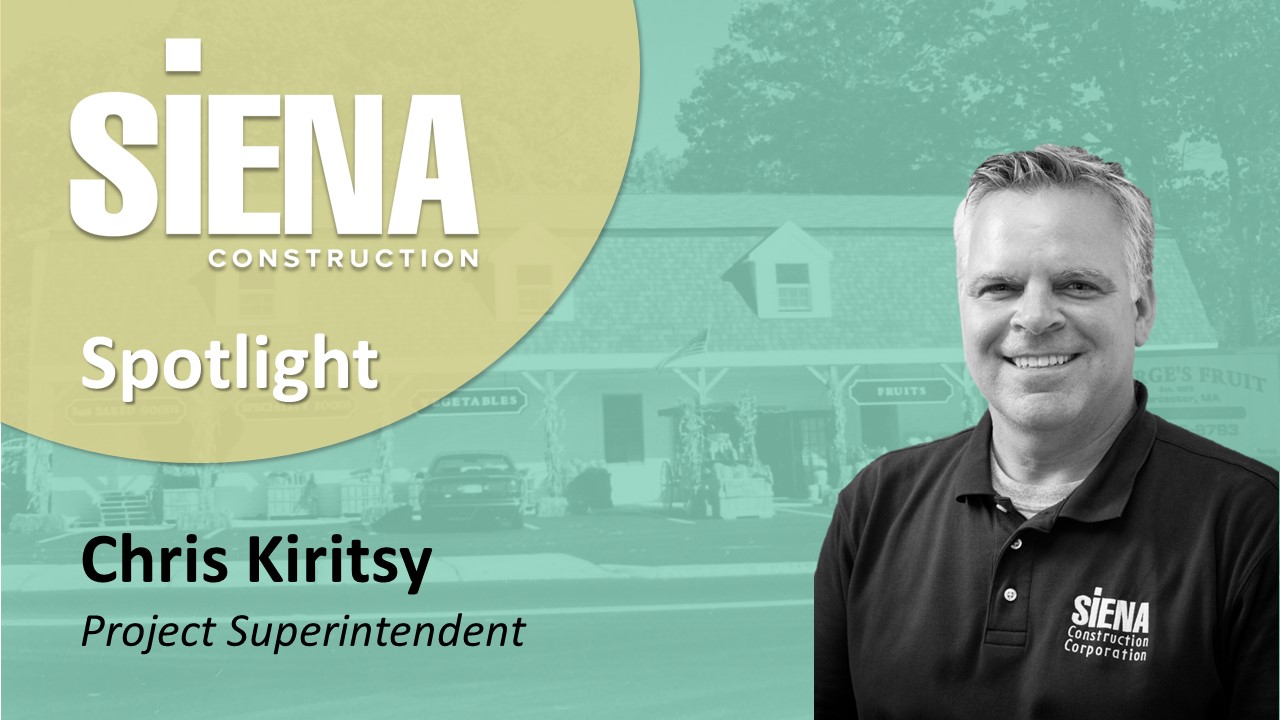 Siena Employee Spotlight: Meet Superintendent Chris Kiritsy
Chris Kiritsy joined Siena as a Project Superintendent in 2018. Chris came to Siena with two decades of previous construction related experience, including managing his own general contracting business, where he specialized in upgrading commercial and residential properties. As Superintendent, Chris oversees Siena's onsite activities, including managing trades, ensuring site safety, and workflow. Chris has managed a variety of important projects at Siena, including numerous jobs at Northeastern University, as well as MIT's Lincoln Laboratory. Chris is known around Siena as friendly and fun-loving guy with a professional and client-based demeanor. We asked him some questions about his unique background and interests. Thanks for all you do for Siena, Chris!
Chris, you have a unique professional background, which includes managing George's Fruit and Produce, your family's business. Can you tell us about that?
George's Fruit and Produce was a great place. It was established in Worcester in 1923 by my grandfather George Kiritsy. In 1974, my father Ted moved the store to the west side of the city, a much better location. Along with my brother Peter, I worked the store from 1979 to 2005.
I miss the quality foods that we carried. It was like I had my own giant refrigerator fully stocked of great food – produce, butcher shop, deli, fish market, and cheese department. We had it all!
How do you think that has translated into construction project management? 
Without even realizing it, you pick up skills over the years that are essential in running any business or project, from cleanliness and managing employees to quality control and customer service. These have all been helpful in running my own general contracting business, and then as a Superintendent.
How did you transition from the Fruit Stand to construction management?
While owning and operating this small family business, we and some very talented friends performed most of the renovations ourselves in order to save money. During that time, I was able to get my Construction Supervisors' License to pull required building permits for work we did on the store and other small projects elsewhere. When we closed the store in 2005, the transition from retailer to general contractor was no problem at all: I had all the tools, trucks and subs all ready to go! After 82 years in business, the store had such a good customer base that it gave me plenty of contacts to keep me busy.
Rumor has it that you sometimes set up your own fruit stand on construction sites. Can you tell us about that?
Yes, depending on the job site! What started out as my own attempts to eat healthy would turn into me supplying a fine selection of fruits and nuts for our subcontractors and clients to enjoy. I've found that job sites can be challenging and somewhat overwhelming at times for those that don't quite understand the construction process. I find that proper lighting and some good quality fruit are the perfect cures for those job site blues! Unfortunately, handing out fresh fruit is not currently part of our COVID Compliance plan. Maybe next year when things stabilize.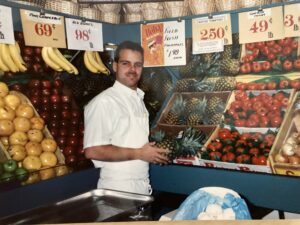 Do you have a favorite success story on a Siena job? What were the project's obstacles and how did we mitigate for success?
I wish I could share an exciting success story with lots of drama and swift decision making, but that will only happen over a couple of cold beers. All and all, the jobs have been trouble-free with minimal obstacles. What really makes a job a great success is a satisfied customer.
What do you like best about working at Siena?
The team! Siena is a great team that works and plays well together. Sometimes a funny line from George makes it all worth it!
What was your first job ever and what did you learn?
Paper route. I learned that dogs bite, and people are very generous around the holidays. 
What are you and your family doing to keep active, and safe, during social distancing?
Lots of golf. As for my gals, they enjoyed sun bathing next to the imaginary in-ground pool that I promised them. Maybe next year!
_______________________________
Chris' Favorites
Favorite movie | Pulp Fiction
Favorite binge watch show | How It's Made
Favorite music |  Rock 'n' Roll and Nat King Cole
Favorite sports team | 1980s Boston Celtics
Favorite local restaurant | Pho Sure
Favorite vacation spot | Newport, Rhode Island