August 18, 2017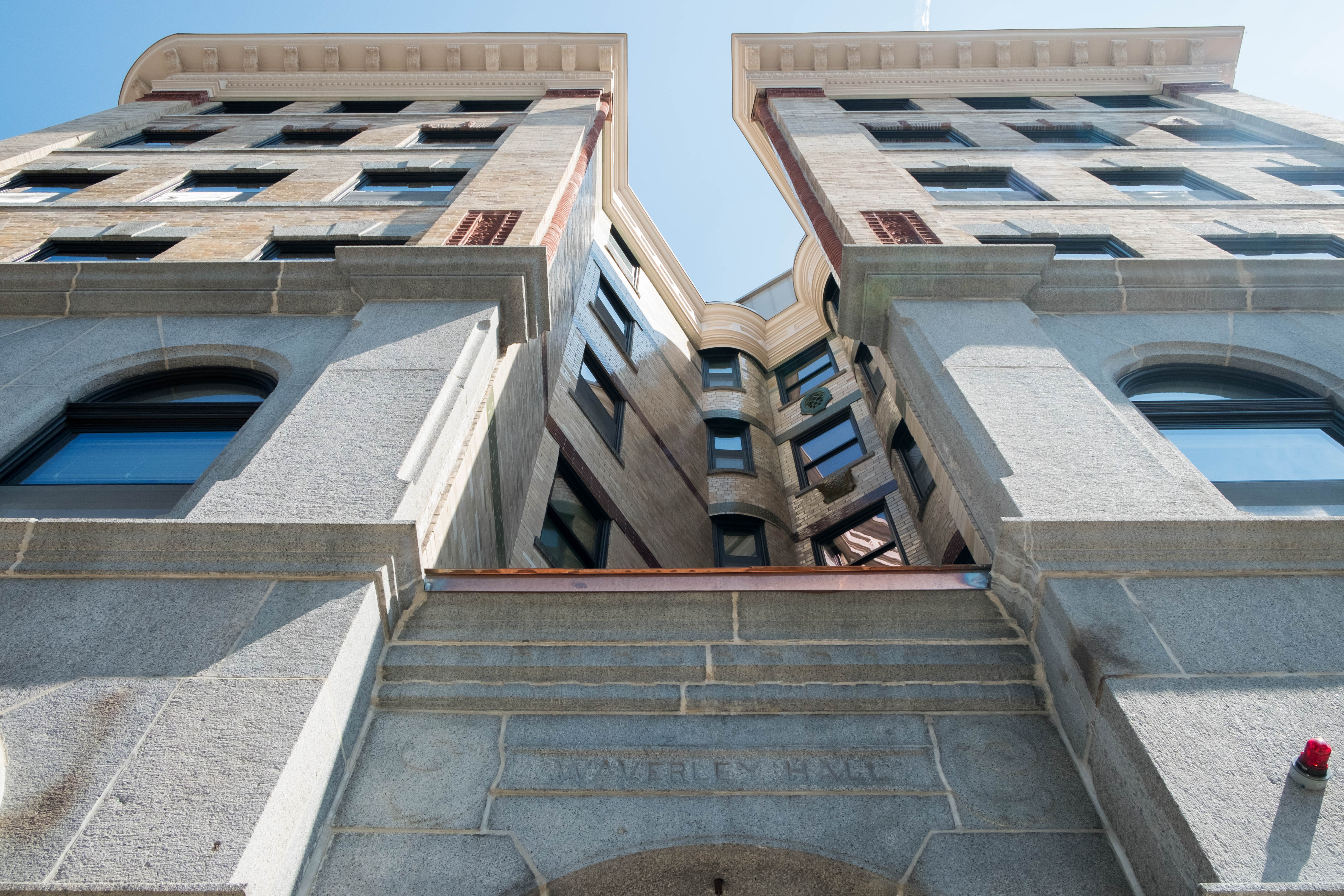 Siena Completes Historic Waverley Hall Renovations in Harvard Square
CAMBRIDGE, MA – In late Summer 2017, Siena Construction completed renovations at Waverley Hall, an historic landmark building in the heart of Cambridge's Harvard Square. Built in 1880, the six-story, 30-unit residential building at 115 Mount Auburn Street offers the vibrant neighborhood's first fully renovated and furnished boutique micro living spaces.
Siena acted as the construction management firm for the building's owners at Morningside, an international private equity firm owned by developer Gerald Chan. Siena's project team also collaborated closely with Hereva Consultants as well as the design team – Vince Pan at Analogue Studio, Cosentini Associates, and Simpson, Gumpertz & Heger –  to ensure all of the project's design requirements were met.
Due to Waverley Hall's century-old infrastructure, a complete overhaul of the base building's systems was needed. During the three-year renovation process, Siena worked with the area's top subcontractors to complete base building upgrades to the HVAC, electrical, plumbing, fire alarm and protection, elevators, windows, and tel/data. Our team salvaged and refurbished the original stain-glass windows, while interior and exterior masonry repairs preserved the aging brick façade.
Siena installed all of the building's interior finishes and furniture for the living spaces. Each unit includes an open floor plan kitchen and living space, study area, sleeping alcove, custom tiled walk in shower, in unit washer/dryer, and central air. Modern furniture solutions include a queen size bed with storage base, flat screen TV, upholstered couch and desk with office chair.
Construction in a densely populated urban neighborhood such as Harvard Square offers some unique challenges. Siena's Superintendent Sean Galvin coordinated closely with the City of Cambridge and other proximal construction jobs to ensure that traffic, sidewalks, and public utilities were unaffected by construction work. Due to the exterior fire escape's proximity to above ground bus wires, our team also worked closely with MBTA officials to ensure that transportation services were kept running.
Siena's President Terrence Hayes reflected on completion of this landmark renovation.
"Waverley Hall is a flagship project for Siena," Terrence said. "As a Cambridge-based company we take pride in helping to shape the landscape of our city. I am so impressed with the fortitude, determination, and teamwork our team has demonstrated throughout the project duration. It's an honor to have worked alongside Morningside, Hereva, and Analogue Studio to help rebuild this iconic building into what's sure to be a beloved home for many. We hope Morningside's tenants enjoy their new space. Welcome to the neighborhood."
For more photos, visit Siena's Waverley Hall project page.