January 26, 2022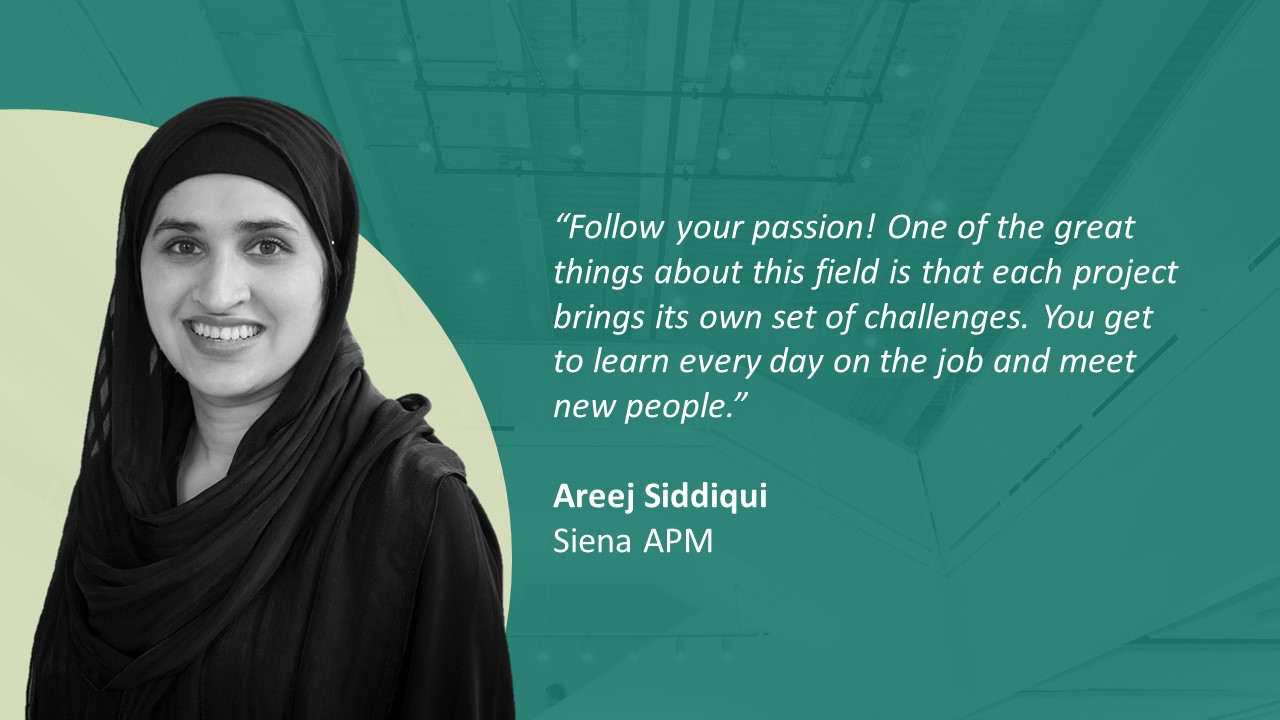 Siena Employee Spotlight: APM Areej Siddiqui
Assistant Project Manager Areej Siddiqui is one of the talented new hires that joined Siena in 2021. Areej has a passion for learning and a unique architectural background, which has brought her from her native Pakistan to Chicago – where she earned her Masters' Degree from Illinois Institute of Technology – and then on to the Boston area. Her knowledge and outgoing personality make her a great fit for our team. We asked Areej to tell us about her journey. (Though we're concerned that she deliberately avoided answering whether she prefers the Chicago Bulls or the Boston Celtics…)
How did you first choose architecture as a career path?
My father was involved in the construction industry, so my childhood was spent amongst people from different trades. It led me to think about the construction process and what led to it. My family encouraged me and supported me in getting into this field.
Before moving to the US, you studied architecture and interned in Pakistan. Are there any significant professional differences in the two building markets?
They are worlds apart! Both design and construction are molded keeping in mind various factors. Since these factors in the two countries are completely different, the building environment has a stark contrast. Some of the main contributing forces are climate, locally available building materials, lifestyle, and culture. Another major force in play is the difference in the role of concerned authorities in relation to design and construction.
What was the most unique or interesting project you worked on before joining Siena? What made it most interesting and rewarding for you?
During my time in Chicago, I was part of a team of students that took part in the U.S. Department of Energy Solar Decathlon Design Challenge in 2020. Our team designed a net zero, adaptive reuse of a closed Chicago Public School building. Using circular economy principles and the concept of a "Loop", the proposed design was a model for neighborhood revitalization and resilience, providing interim and low-income housing. What I liked most about this was the chance to work with people from different academic and cultural backgrounds. As a team, we overcame various challenges and received an honorable mention for our project.
How do you think your architectural background has contributed to your approach to construction?
A very common problem that exists within the industry is a lack of communication between the planning and execution of any project. Having gone through a rigorous 5-year program, I believe that I have less of a struggle in understanding both sides. My time as an architecture student also made me detail oriented and helped me develop strong time management skills.
You just completed your first major project at Siena – the renovation for Mosesian Center for the Arts in Watertown. What were some of the project challenges and how did you mitigate them?
The art center was a great experience as I was able to work throughout the lifecycle of the project. Although it was a smooth process, there were a few challenges along the way. Supply chain delays affected the construction process but we were able to work around them by rearranging the order of work. Another major challenge was working against a deadline as the art center's opening had been scheduled for mid-November. By working longer hours and weekends, we successfully handed over the space to the client.
What do you like best about working at Siena?
The best part of working at Siena is the feeling of family. In my short time here, I have received tremendous support and guidance from everyone.
Do you have any advice for a young person thinking about going into the construction business?
Follow your passion! One of the great things about this field is that each project brings its own set of challenges. You get to learn everyday on the job and meet new people. The feeling you get at the end of a project is beyond expression when you look at what you have accomplished.
What's the secret to giving a great Safety Meeting presentation?
Definitely don't start the research a day before. Bring a surprise guest speaker. Site visits to learn about the topic. And lots of pictures.
What do you do to stay out of trouble when you're not working?
Keep tabs on Brandt Wild.
* * * *
Areej's Favorites
Favorite Vacation Spot – Japan
Favorite Movie – Die Hard
Favorite Music – Anything except metal
Favorite Boston-area location – Harvard Square
Favorite Restaurant – Cafe Luna (for brunch)
Favorite Food – Pizza