August 29, 2022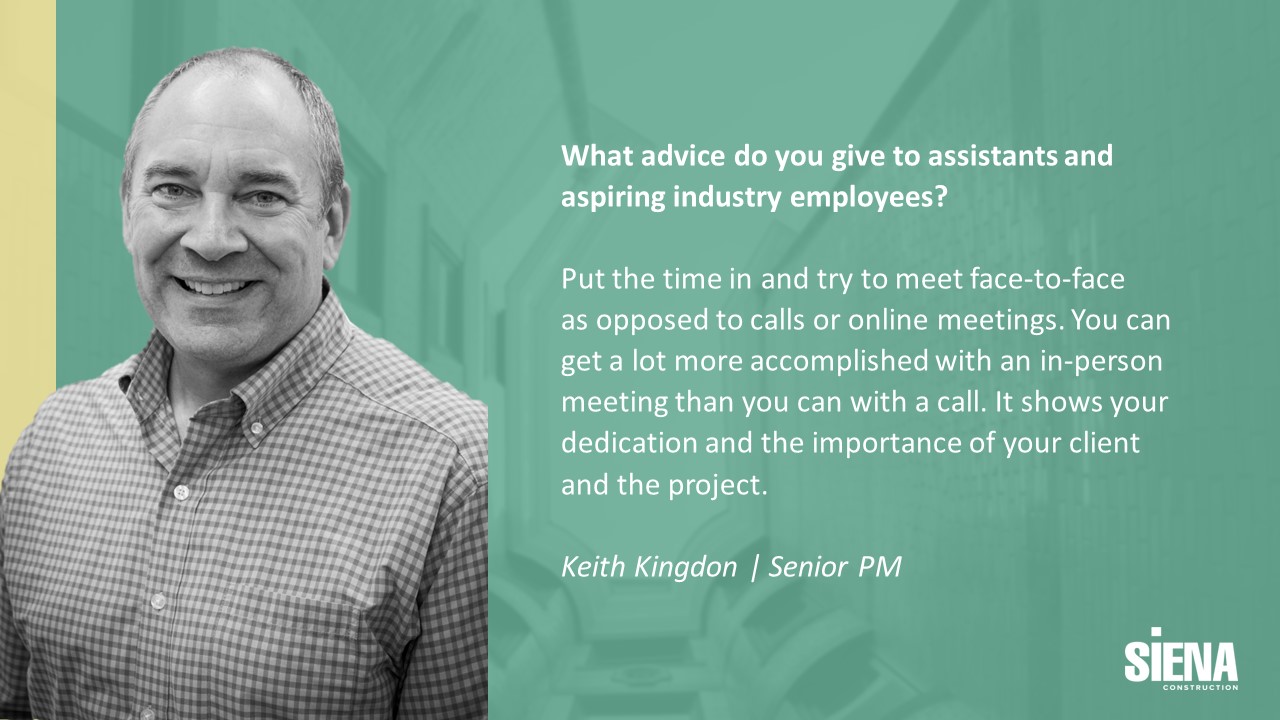 Siena Employee Spotlight | Keith Kingdon
Senior Project Manager Keith Kingdon joined Siena during the great hiring spree of 2021, and has quickly proven himself as an integral member of Team Siena. Keith brings a professional, personable, and collaborative approach to his projects and daily sit-downs with the lunch room crew. With nearly two decades in construction, Keith has accumulated a great understanding of the Boston-area industry, successfully building relationships with the same ease as building corporate interior spaces. We asked Keith about his journey to Siena, and what keeps him going. Thanks Keith, for all you bring to Siena.
What was your first job ever, and what did you learn?
My first real job was working at McDonald's in high school. It was great to finally make real money and I could rock the polyester outfit and paper hat. My biggest takeaway was to always say "No" when asked to move from cooking greasy burgers to working the register when the track team bus showed up.
How did you choose construction as a career path? 
I was working as a Front Office Manager at the Back Bay Hilton one night and got harassed by someone's grandmother for her lost luggage from the airport. I decided that this was not the career for me. My father-in-law was an executive for an Ad agency in New York, and he suggested that I look into construction management.
At the time he was working on a project, and his PM was an English major. I met with a local company here and was hired as a Superintendent. So here I am today, a somewhat successful project manager!
Tell us about your unique experience working for Vermont's favorite jam band Phish on their music video.
My brother is a producer and he got the opportunity to produce Phish's first music video (for their song "Down with Disease" off their 1994 album Hoist).  The day that they were filming the video, there was a huge snow storm and a bunch of the production grips couldn't make it in, so I was asked to help out. I worked on the set and was responsible for the bubble machine for the underwater scenes. It was a very cool experience and lead to a second music video for the band Chucklehead.
Check out Keith's hard work rocking the bubble machine on Phish's video for "Down with Disease" here on You Tube!
What's the most memorable project you've worked on at Siena? What made it most interesting and rewarding?
The first project that I was assigned when I started at Siena was MOMA Therapeutics, a 24,000 square foot, $7.27 Million lab and office fit-out at Cambridge Discovery Park. We ended up winning it in a competitive bid, which was very rewarding. Fortunately, we had a great project management and facilities team to collaborate with. As a result, we received a glowing review!
Take a photo tour of MOMA's completed space here at Siena's project page.
What do you like best about working at Siena (besides George)?
I started my career with Structure Tone and spent 23 years with them primarily due to the family type atmosphere. Siena takes that family-type atmosphere to the next level. I love the people here, even George.
It has been a great year and I have felt welcomed from day one. This is the type of company that you want to succeed with.
Do you have any advice for a young person thinking about choosing the construction business as a career?
You have to put the time in and try to meet with clients or subs face to face opposed to calls or Zoom meetings. You can get a lot more accomplished in an in-person meeting than you can with a call. Plus, it shows the client or sub that they are important enough to meet with.
What do you do to stay out of trouble when you're not working? 
Projects at home. I love working on home improvement projects. You know that saying about idle hands and the devil's workshop, that applies to me.
*
Keith's Favorites
Favorite Vacation Spot – Bethany Beach, Delaware
Favorite Movie – Caddyshack
Favorite Music – According to (Siena's APM) Liv Oskin, I hate all music. Rock would be my favorite.
Favorite Boston-area location – North End
Favorite Restaurant – Sweet Basil
Favorite Food – Brisket