July 6, 2023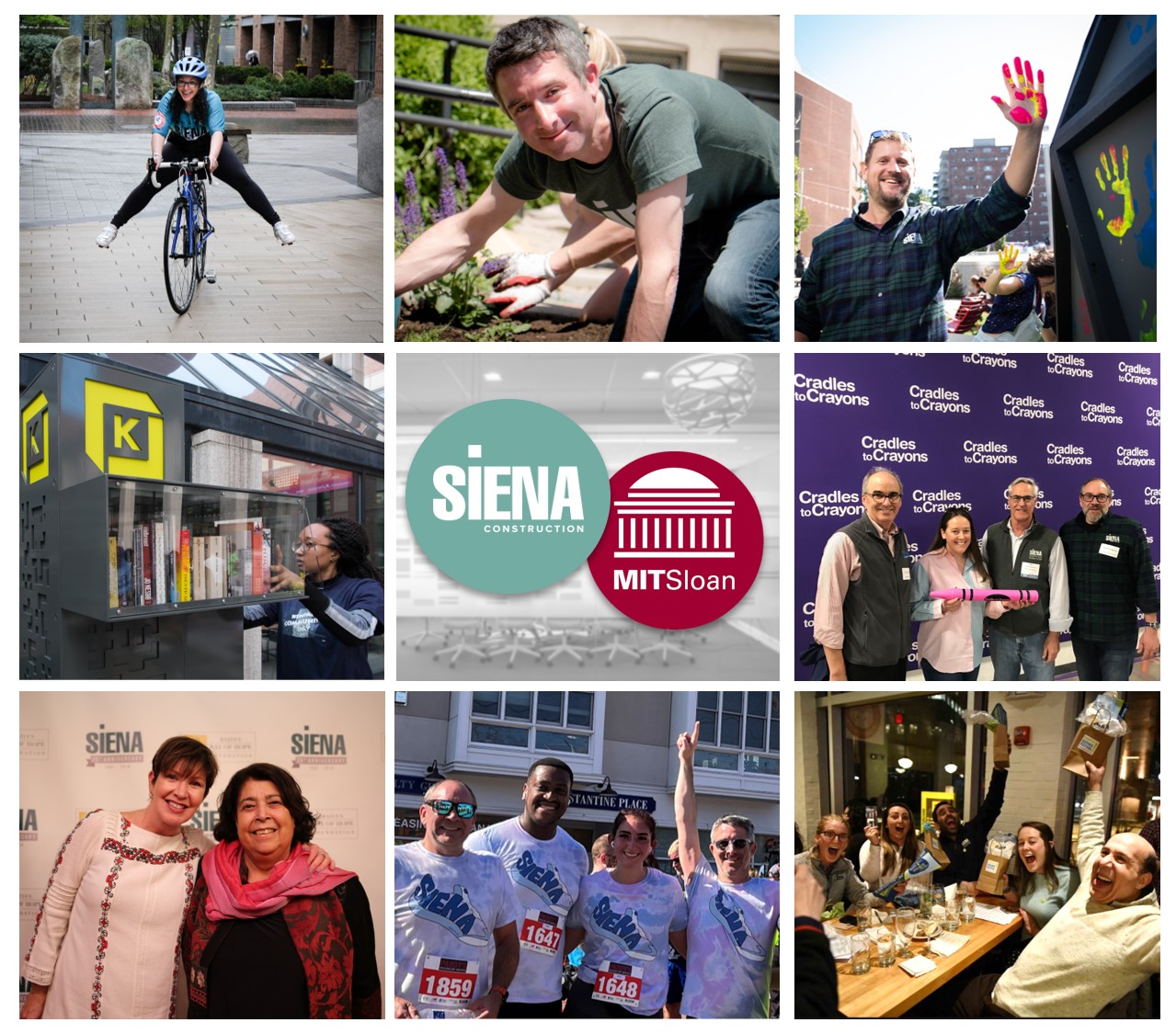 Siena and MIT's S-Lab Partnership Examines Opportunities for Sustainable Community Impacts
Siena's Sustainable Values = Partnerships + Outreach
Among Siena's core firm values is a focus on sustainability. We define sustainability in the holistic sense – as an ongoing process of maintaining our building-related commitments towards a lasting change for the greatest good. We believe there is room to align our day-to-day construction operations with sustainable economic, environmental, and social efforts in order to promote a healthy and vibrant community in this place we call home.
One of the ways we try to achieve this (admittedly abstract) sustainability goal is through our partnership outreach. Siena is proud to engage with a variety of local organizations that advocate for positive social change. Pan Mass Challenge, City Sprouts, Razia's Ray of Hope Foundation, and Cambridge Science Festival are just a few Massachusetts-based non-profits that raise awareness through action to address societal challenges. These firms stand at the intersections of science and medical research, education, the environment, social justice, and equalities – localizing action to address global concerns.
A Community-Based Mission Statement
Siena has a strong company culture to participate in the community and play a positive role. The most meaningful partnerships Siena has with our area non-profits involve a mix of labor-based volunteerism, community activities, financial donations, and support.
We wanted to dig deeper – to better understand our effectiveness to measure success. One of our company's goals this year is to learn how to better prioritize our resources more effectively for this year, and for the future. To achieve this, we drew upon our great ongoing relationship with one of our city neighbors and partners: MIT's S-Lab.
Enter MIT S-Lab
Part of MIT's Sloan School of Management, The S-Lab explores the connection between business, the environment, and society. As part of their Sustainability Initiative, S-Lab partners students with local and global companies, delivering professional and effective analysis, advice, and recommendations that are immediately useful to host organizations and advance the field of sustainability.
For the third year in a row, Siena was selected to continue our partnership with MIT Sloan School Laboratory for Sustainable Business (S-Lab). Siena collaborated with a team of the school's graduate students to examine and analyze our firm's philanthropic efforts and community impacts.
Siena was chosen to participate alongside some of the largest global firms and brands – Nike, Amazon Grocery and Robotics, Staples, Apple, Colgate – who are also looking to tap the S-Lab's expertise to shape their business models and decisions.
The S-Lab Team
MIT's S-Lab graduate students we were teamed with this year brought diverse educational and professional backgrounds:
Kyle O'Brien has professional experience as a bioscience supply chain manager and wastewater surveillance in business development
Luke Petersen has a background as an attorney, and provided leadership on budgetary, legal, and maritime-related matters in the US Coast Guard
Shinichiro Yasui has been a deputy manager, supervisor, and business analyst for Tokyo-based life insurance firms, with educational background in political economic policy
Under the direction of Siena's Project Manager Brandt Wild, S-Lab's community work team assessed where Siena's social efforts and environmental resources can provide the most community impact.
Since 2020, Brandt has overseen Siena's partnership with the S-Lab. Last year under Brandt's leadership, Siena and S-Lab have collaborated to identify regenerative, integral approaches to sustainable construction materials management. Brandt also oversaw the design and construction of several geodesic spheres for Cambridge Science Festival, highlighting the interconnective impacts of sustainable building practices, and community connections through learning and creativity.
Brandt and the MIT students combined their unique perspectives to develop their insights and suggestions of their final report.
Methodologies and Recommendations
The team developed an objective methodology for identifying optimal processes by performing an impact rating of our current community projects. This efficiency evaluation weighed sponsorship costs, community impact ratings, and time commitment.
S-Lab also created a survey and interview questions of Siena's employees. This helped us better understand our team's awareness and interest in our community involvements. We learned that Siena's employees are very proud of the company's community efforts and can play a bigger role in helping to maximize impact. An overwhelming majority believed we should focus resources on some key fields where we're already invested:
environmental sustainability
education
equity and social responsibilities
community building
Keeping the process simple is another important main objective. The opportunities to connect with our community shouldn't be seen as a burden, an obligation, or significantly add to our already busy workload. A direct quote from their report that we love: "Choosing a strategy is also choosing what not to do."
Siena will look to utilize these lessons learned from S-Lab's project analysis and our employee interests to continue our positive relationships and contributions, and evaluate future potential partnerships in the community. Onward!