December 12, 2022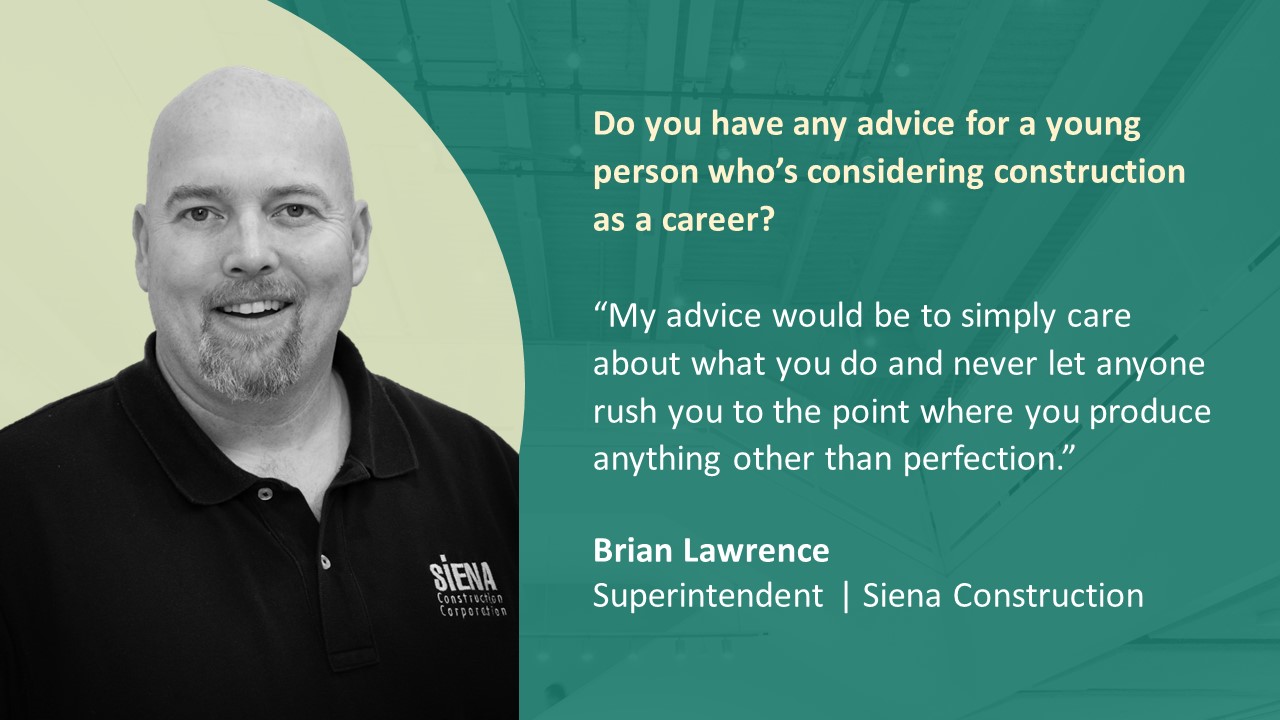 Siena Employee Spotlight | Meet Superintendent Brian Lawrence
Since joining Siena Construction in 2016, Superintendent and Carpenter Brian Lawrence has been an integral part of our on-site construction projects. Bringing two decades of construction-related experience as a carpenter, Brian has overseen many complex interior renovations for clients in life science, education, commercial, and financial sectors. We recently caught up with Brian and asked him about his career path in construction and his time at Siena. Thanks for all you do for Siena, Brian! 
What was your first job ever, and what did you learn?
My first job was at a local grocery store called Hannaford Brothers. I started as a bagger/cart retriever at 15 years old, but advanced fairly quick to cashier. At a young age I learned how working hard will get you advanced in life.
How did you choose construction as a career path? 
I got into carpentry simply because my father is a home builder. I loved going on the jobsites as a kid and building what I could out of scraps. Occasionally I got in trouble for using non-scrap materials!
What's the most memorable project you've worked on at Siena? What made it most interesting and rewarding?
This is a tough one, because there has been so many! If I had to pick one, I'd say when I manufactured and installed a slotted feature wall at 100 Binney Street. The client was so happy and it looked fantastic. It made me very proud to be part of such a great company.
What do you like best about working at Siena?
I love how family-oriented Siena is! All my fellow employees and bosses are great!
Do you have any advice for a young person thinking about choosing the construction business as a career?
My advice would be to simply care about what you do and never let anyone rush you to the point you produce nothing but perfection.
What do you do to stay out of trouble when you're not working? 
When I'm not working, I'm usually working! Most evenings in the winter I try to get to Pat's Peak for night skiing with my favorite people – my wife and kids. In the summer, we love camping and hiking.
Brian's Favorites
Favorite Vacation Spot – We love amusement parks: Disney, Universal Studios, Busch Gardens, Kings Dominion, and Six Flags.
Favorite Movie – Gladiator
Favorite Music – Country/Rock and Roll
Favorite Binge-worthy Show — Pawn Stars. I love history!
Favorite Restaurant – North End Bistro in Manchester, NH
Favorite Food – Chicken Parm with Penne