March 8, 2023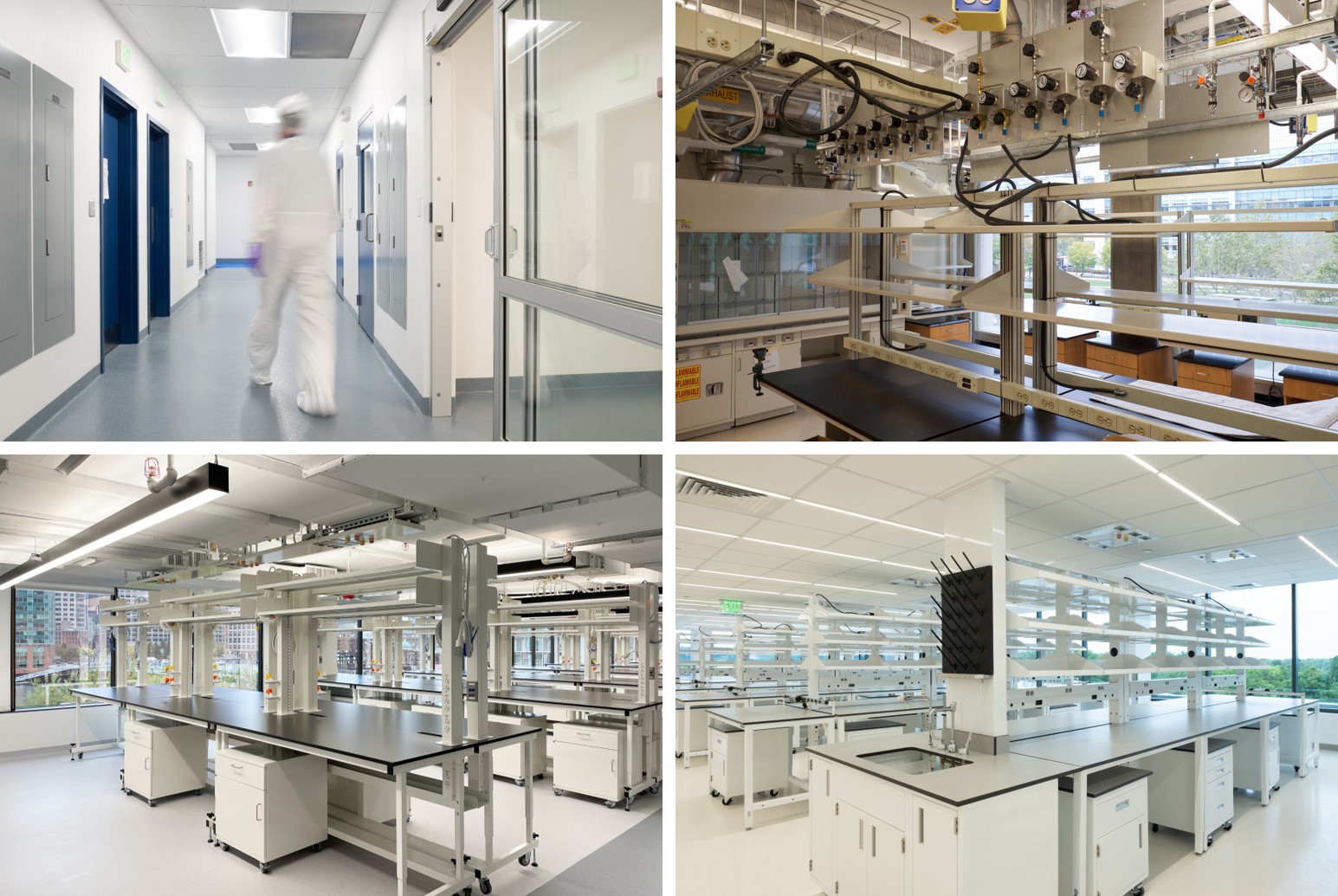 What's Hot Right Now in Life Science Construction
Life Science construction continues to be an extremely competitive market throughout Greater Boston. Navigating the complexities of existing conditions, material delays, ownership requirements, budget and schedule constraints, and sensitive science requires experience and knowledge of the entire project team. And a little bit of empathy and patience. 
We asked Siena's Project Manager Alex Testa to provide insight into what's hot right now in biotech construction based on her recent project management experience. Owners, end-users, designers, and construction managers can all benefit from understanding recent building trends when navigating expectations and the current conditions in the local building market.
Opening Up (To Open Ceiling Labs)
One recent design trend we as construction managers – and hard-working BIM Coordinators – can get behind is open lab ceilings. Glancing up to see all the plumbing, HVAC, electrical and fire protection systems you've coordinated? It's very hot right now.
Beyond aesthetics – and a daily visual reminder of all that hard work and coordination – exposed lab ceilings also provide practical benefits for owners and end users, such as ease of access to utilities for facilities teams.
When Siena builds a lab with an exposed ceiling, we use our most-trusted subcontractors who put the design intent of exposed and orderly ceilings at the forefront. Every coordination and field decision has the end-goal in mind: creating an airy, open, and stunning lab space for end users to discover their next scientific breakthrough.
Solving The Supply Chain Blues
Since the pandemic upended the global supply chain, a construction manager's responsibilities have expanded to include incessant procurement tracking. From our recent experience, the greatest procurement impacts have been on key long lead item materials: 
electrical gear

lighting

HVAC and plumbing equipment

casework
As soon as material is released, we set up weekly calls with each subcontractor to get updated shipping information. We want to know right away if there is going to be a delay. This keeps our master schedule accurate and gives us more time to pivot if needed.
In many situations, our teams have managed the supply chain challenges ourselves. Here's a couple ways we've been proactive to shorten lead times:
 

hiring our own freight company to get critical materials trucked directly to the job-site

 

holding face-to-face meetings with manufacturers to track raw materials and address delays
We believe a concerted team effort to learn and adapt to prioritize procurement – and going out of our way to respond when there's a potential delay – has been a key to delivering projects on time despite the current state of the supply chain.
Temporary Protection… and Permanent Sustainability
Talk about a hot topic! Our superintendents and laborers will tell you that there is no such thing as too much temporary protection. And with so many projects occurring in and around occupied spaces, our clients would whole-heartedly agree.
Everything goes more smoothly when finishes, furniture, lab equipment, and people are protected from the dust and debris of construction work.
One downside? The amount of plastic we use on site that ends up in the landfill. Fortunately, we're working on targeting a potential solution, and one that's not just temporary.
For the past 3 years, Siena has partnered with MIT Sloan School of Management's "S-Lab" to measure just how much single-use waste we produce. A few solutions we're working into our projects:
Creating a logistics system that improves reusable plastic shares

 

Meeting with suppliers to review use of recycled material

 

Reviewing increased recycling practices with waste management facilities

 

Identifying opportunities for saving, refurbishing, and reusing finishes
On-site sustainability is something that Siena is continually working to maximize. We know that nothing is hotter than a sustainable solution to a real-world problem to help our warming planet.
Imagineering
Working with a client and project team during preconstruction is hotter than starting up a gas-fired water heater. When we can provide early pricing, schedules, and feedback, the construction portion always goes more smoothly.
But how do you make precon smoother? One solution (besides drinking a lot of coffee) is imagineering. This means taking a test fit, or a conceptual design and bringing it to life.
Siena produces supplemental sketches for every trade and uses our database of projects to inform the details. The documents go back out to subcontractors for feedback and pricing (while we refill the coffee pot).
When everything is compiled, the client and team receives a detailed package of scope and, most importantly, a budget they can trust.
______________________________________________________________
Project Manager Alex Testa, LEED AP BD+C joined Siena Construction in 2017. Alex has a decade of construction related experience, having recently overseen complex lab and office renovation projects for Entrada Therapeutics, Novartis, and Takeda. Her professional and educational background in Engineering includes degrees from UMass-Amherst (MS – Structural Engineering) and Tufts University (BS – Civil Engineering).