May 5, 2020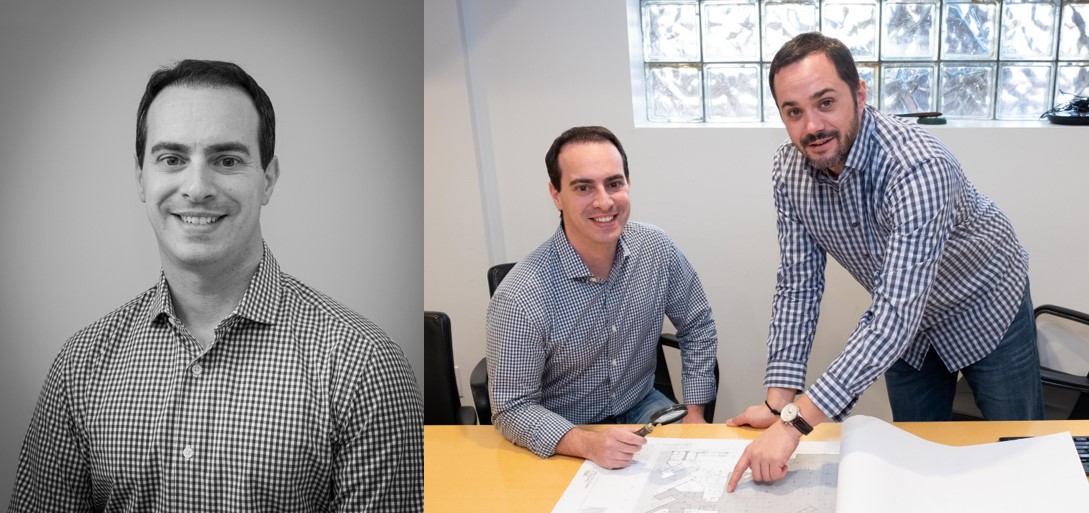 Siena Spotlight Series on Project Manager Sal Tardanico
Project Manager Sal Tardanico joined Siena in 2018, with the high recommendation from his life-long friend, Siena's Director of Commercial Construction Anthony Di Carlo. Sal brings nearly a decade of healthcare management experience to his role as PM, including time as a Radiation Technologist at Boston Children's Hospital, an Executive Director of Operations for an imaging group in San Diego. This medical background provides Sal a unique perspective and knowledge when managing laboratory renovation projects for Siena's life science clients. Sal has recently overseen lab upgrades for Whitehead Institute, Voyager Therapeutics, and HiFiBio Therapeutics in Cambridge. He is also an integral part of Siena's COVID Response Committee, creating health and safety workplace protocols for construction sites in response to COVID-19. We recently asked Sal some questions about his professional background and interests. Thanks for all you do for Siena, Sal!
How did you find your way to construction management?  
I was in the right place at the right time. I've known Anthony since we were young. I was moving back east and was in the process of interviewing for healthcare jobs. I gave him a call to catch up and let him know when I was officially back, and he basically told me I'd be starting at Siena after I turned down all the other job offers.
You have a unique professional background in healthcare management. How do you think that has translated into construction project management?
There was a big learning curve for me. Learning how a construction project is scheduled and put together took me time and still have a ton to learn. On the owner's side, I never had to deal with the construction aspect. I worked with the Facilities Director, and he coordinated with construction managers to build what I wanted.
Are there similarities between healthcare management and construction management?
There are similarities between the two types of management. When I worked clinically, I was more like a site superintendent, which required constant monitoring of how we coordinated daily patient workflow. This is much like what is done with construction subcontractors.  When I switched from clinical to administrative, that involved similar skills like a construction project manager: budgeting, compliance issues, data gathering, and space planning.
You've been a big part of preparing Siena's COVID Workplace Protocol Plan. What do you see are the most important aspects of construction site health and safety once construction commences?
I think the biggest challenge is the changing of habits. Developing a structure and a routine will be important on the job site.  For the foreseeable future, PM's and Superintendents will have to think more like a clinician than they ever had to before. How to keep oneself safe and implementing safety procedures for all of those that enter the construction site will be a huge contrast to how work has ever been done before in the industry.
Do you have a favorite success story from your time in healthcare?
The story that sticks out the most is the way my team handled the trauma response the day of the Boston Marathon bombing. Since it was Patriots Day, we were a skeletal staff, much like every other hospital was in Boston that day. We didn't know what to expect in the ER when we got word of the incident. After the initial shock at what we saw, we regrouped, came up with a plan, improvised, worked together, and ultimately helped as many patients as we could that day with the limited resources that we had. We just weren't prepared for something like that. It is very similar to what medical professionals are going through now with COVID on a daily basis.
What's your favorite success story on a Siena job? What were the project's obstacles and how did you mitigate them?
Implementation of the COVID plan will probably end up being my favorite success story; it's an ongoing process that is very fluid and constantly changing daily. There is no precedent to go by. Partnering up with [Siena's COVID Planners] Hank Mosca, Karen Orf, and Jess Baccari has been great because everyone brings in a different knowledge and skill set that will ultimately reflect the successful implementation of the safety plan.
What do you like best about working at Siena? 
Early on, I noticed how much everyone loves their job. Everyone is happy to come to work. That spoke volumes to me because I had burned out of working in healthcare and was not happy there. From the top of the leadership chain on down, everyone at Siena is willing to help. I think that is huge for a successful organization. Thank God for Mark Fitzgerald and Brian McDonnell from the start, and later on Chrissy Gabriel and Jim Moore.
What was your first job ever and what did you learn?
My first official job was at an Office Max when I was 16. Anthony was actually my manager then. He told me, "I will teach you everything you need to know!" I'm still waiting for that lesson on how to use a cash register. Looks like I now have come full circle at Siena.
What are you doing to stay healthy (and sane) during social distancing?
I have a lot of work that needs to be done to my place so that has been a good distraction!
Fast Favorites:
Favorite binge watch show – Succession
Favorite music – A little bit of everything
Favorite sports team – New England Patriots
Favorite local restaurant – Texas Roadhouse
Favorite vacation spot –Somewhere in Europe