June 18, 2014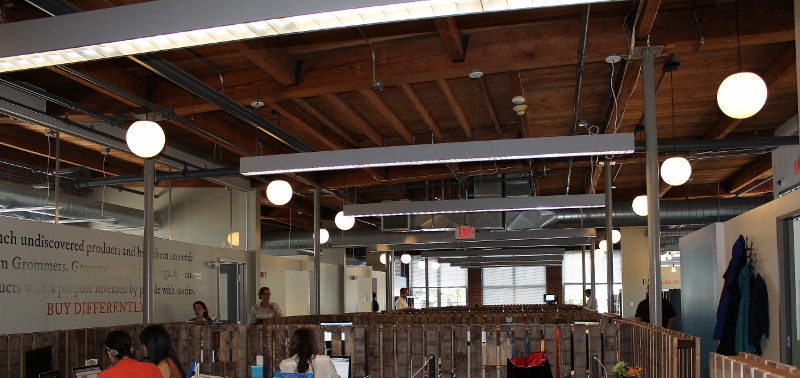 The Grommet
Siena is happy to announce the successful project completion for The Grommet, a Somerville-based product launch company. The Grommet's new headquarters are housed in a converted brick and beam factory built in 1921 at 87 Elmwood Street in Somerville's vibrant Davis Square neighborhood.
Our construction team overhauled the existing factory to accommodate the client's requirements for offices, meeting rooms, and gallery space. Siena installed a number of custom-made, hand-crafted finishes created by local makers and salvaged re-purposed items, including:
– wooden work space dividers inspired by shipping palettes
– a movable wooden video backdrop
– salvaged manufacturing signage
– photo collage wall coverings
– refurbished antique furniture
– industrial drop lighting
– wall treatments with quotations
Siena built walls of various heights to match the building's existing structures. Siena also installed new flooring and kitchen storage, and upgraded electrical and plumbing infrastructures.
The design plans by Analogue Studio combine modern and historical elements that reflect The Grommet's dedication to the innovation and traditions of American manufacturing. The office space supports The Grommet's mission to promote modern day manufacturers to build innovative and thoughtful businesses.