August 21, 2015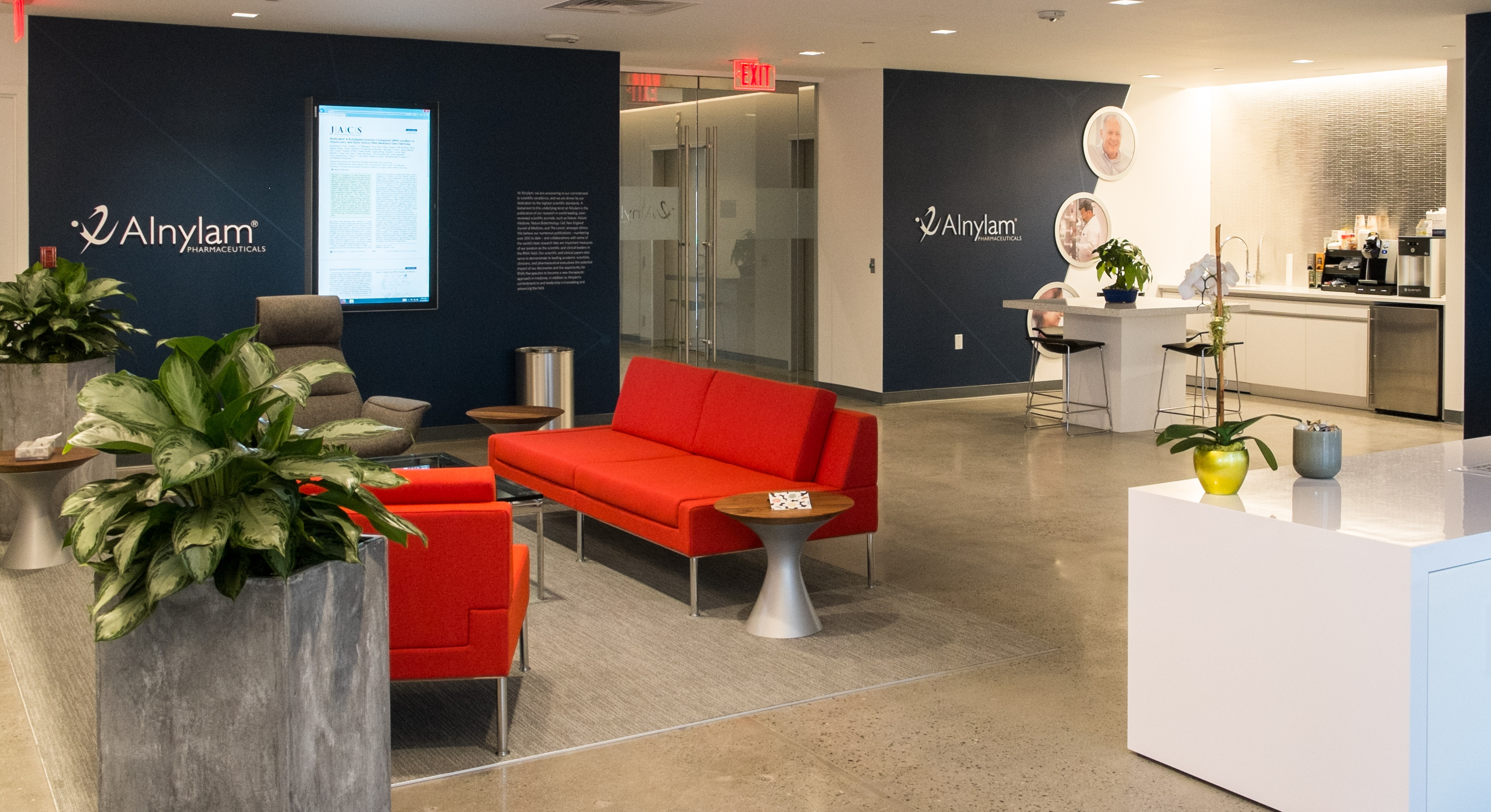 Alnylam Pharmaceuticals Office
Siena Construction is pleased to announce the completion of an office fit out for Alnylam Pharmaceuticals, Inc.  in Cambridge. The biopharmaceutical company, which develops therapeutics for genetically defined diseases, is expanding their headquarters within the vibrant biomedical hub of Kendall Square.
Situated in the Riverfront Office Park at 101 Main Street, Alnylam's unique new workplace is designed to inspire collaboration for the advancement of innovative medicines. Siena implemented Perkins+Will's design plan that reflects the firm's biomedical research and development path.
Our team renovated existing space and constructed new private offices, open-concept collaborative work stations, conference rooms, a showcase reception area, and kitchenette. The fast-track project called for installation of reusable materials including ceiling light fixtures, data, power, and mechanical equipment. The office's unique finishes consist of polished concrete, stainless steel backsplash, custom quartz millwork, wallpaper, and LED light fixtures.
Alnylam's unique branding approach, celebrating the firm's scientific innovations and patient experience, provides captivating visuals throughout the space. Custom-designed frosted glass partitions display a pattern of inter-connecting lines and points modeled on astronomical constellation shapes, and simultaneously suggest microscopic human gene imagery. The conference rooms and work stations are named for the constellations and mythological Greek characters, acknowledging science's role in human exploration through tradition and discovery. Additionally, quotations and portraits of patients, whose lives have been positively affected by Alnylam's medicine discoveries, decorate the reception area and hallway walls.
Siena collaborated closely with the design team at Perkins+Will and AHA Engineers, as well as the ownership team – including representatives from Alnylam, Hereva Consultants, and landlord CBRE New England – to complete work given the challenging six week construction schedule.
Senior Project Manager Chrissy Gabriel reflected on the project's success. "The Alnylam project called for seamless planning and follow-through due to the extremely expedited schedule," Chrissy said. "The job's success can be directly attributed to the open communication and collaboration between Siena, the design, and ownership teams. Siena is proud of the collaborative work we've done at 101 Main Street. We hope the Alnylam staff enjoys their new home."
To view more photos from the Alnylam project, please visit Siena's projects page.