July 23, 2018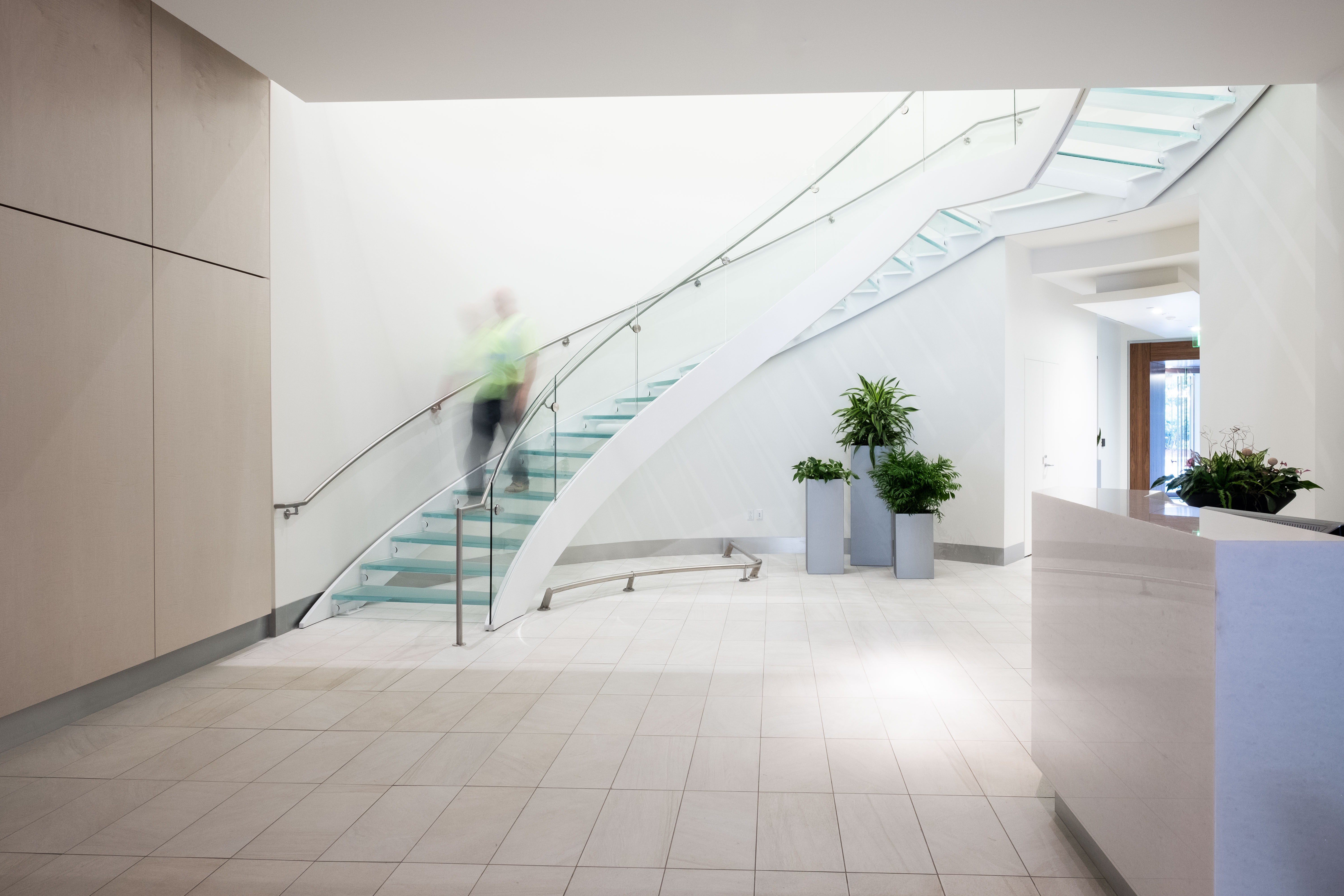 Siena Completes Forest City Lobby Renovations
CAMBRIDGE, MA – Siena Construction has completed a lobby renovation project for Forest City Enterprises, a real estate investment firm that manages commercial and residential properties throughout greater Boston.
Siena's project team renovated the lobby in The Clark Building, a five-story commercial property at 38 Sidney Street in Cambridge. The Clark Building is part of University Park, an innovative mixed-use development comprised of commercial and residential properties near Central and Kendall Squares. Siena completed renovations in the occupied building with plans from Boston-based design firm TRIA.
The lobby's centerpiece is a newly constructed helical staircase featuring glass treads, risers, and an inside glass guard rail. Siena's team demolished the existing semi-circular stairs that were original to the building constructed in 1988. The new structure features wider treads for ease of use, while its DNA-strand shape suggests the biotechnological- and biopharmaceutical-based testing being developed in the building.
The interior fit-out of the lobby space also called for new MEPs, lighting and flooring finishes, fire alarm and fire protection, and structural steel in-fill of the existing atrium. Additionally, our team renovated the restrooms throughout the building's five floors and oversaw important upgrades to the building's elevators. Construction was completed in an active facility occupied by four research-based lease holders, which required special attention to avoid active science and operation disruptions.
Siena Construction President Terrence Hayes reflected on the importance of the project's success.
"Siena is proud to have collaborated with TRIA on this showcase upgrade for Forest City and their tenants," Terrence said. "The lobby's inviting atmosphere – especially the sleek new staircase – hints at the facility tenancies' cutting-edge discoveries supporting health and recovery. We hope Forest City, their facility tenants, and visitors alike enjoy this welcoming, dynamic space."
Check out more photos of Forest City's new lobby here.