July 28, 2020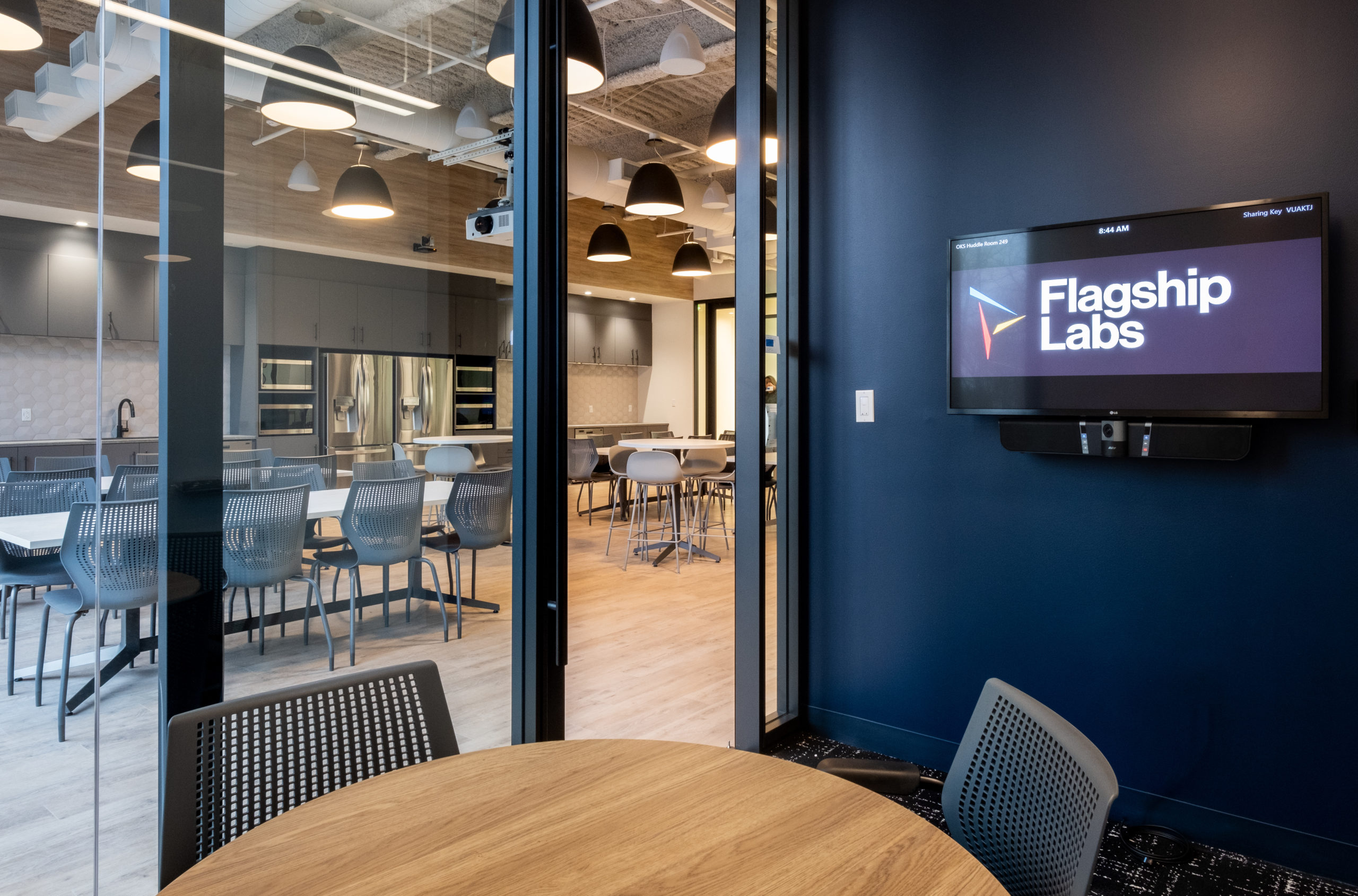 Siena Completes Flagship Pioneering Mixed-Use Space in Cambridge
CAMBRIDGE, MA – Siena Construction has completed a renovation project for Flagship Pioneering, a firm that conceives, resources, and builds life sciences companies that invent breakthrough technologies. Located in the innovative Kendall Square neighborhood, Flagship occupies the second floor at One Kendall Square, Alexandria Real Estate's 814,000 square foot mixed-use facility which includes offices and laboratories. Siena acted as the construction manager, with design plans from TRIA and AHA Consulting Engineers.
Flagship's intent is to use the 33,500 square foot space as an innovation foundry for the many companies it intends to launch over the next decade. The six individual suites provide lab and office space for a number of Flagship's early stage companies, housing approximately 140 scientists and support personnel. The space is intended to operate as a single Flagship Labs space and encourage collaboration and innovation among the scientist and the companies utilizing this space. The space consists of wet lab space with tissue culture suites, lab support including central autoclave and glass wash, consumable storage, and equipment rooms. Central services call for compressed air and pH neutralization. The open non-lab seating space includes meeting rooms, multi-space concepts, convertible conference space, and kitchen area.
Throughout the six-month construction phase, Siena worked with the area's top subcontractors to complete upgrades to HVAC, MEPs, fire alarm and protection, flooring, drywall, painting, tel-data, glass and glazing, and specialty laboratory equipment installations. Central services called for compressed air and pH neutralization.
Siena's team collaborated with Flagship and Hereva Consultants, TRIA, and AHA, to ensure all of the design requirements and building specifications were met. Working in an occupied building with active science also requires careful planning; Siena also worked closely with Alexandria's facilities team in order to minimize disturbances to the building's surrounding tenants.
"All thanks to Siena Construction for such a successful project, we are proud to have had them as such an integral part of the team," said Pat Gallagher, President and CEO at Hereva Consultants. "A great example of people doing what they said they were going to do! We appreciate the Siena team's hard work, dedication, and leadership in delivering this exciting project."
Director of Life Sciences Chrissy Gabriel led the integrated, collaborative efforts of Siena's team – Project Manager Carli Cabana, APM Erika Burns, and Superintendent Dave Wieher – who each contributed to the project being successfully completed on schedule and within budget.
"Cambridge is perhaps the most competitive life sciences real estate market in the country. Flagship's developmental model serves as an important gateway for startups to get their projects up and running," Chrissy said. "We take pride in helping to shape the landscape of our city, and in our own small way, contribute to the important discoveries our clients are making. We hope Flagship's ecosystem of employees and companies enjoy their new work space."
For more photos of Flagship Pioneering's finished space, click here.